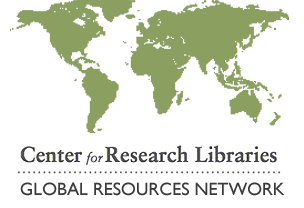 The Center for Research Libraries will purchase eleven valuable microform and reprint collections, which will soon be available through interlibrary loan from CRL.
Many major microform and reprint sets and collections can be too costly for individual institutions, and are not readily available through interlibrary loan. Through the CRL Purchase Proposal Program, libraries nominate microform and hard copy collections for CRL purchase. Participation in this cooperative purchase program is one of the benefits of a CRL membership.
For more information on the purchase and details on the new collections, visit http://www.crl.edu/news/8945.
Front page of edition of Völkischer Beobachter, a newspaper from Nazi Germany available as part of the new collections