Thu, October 27, 2016 (All day)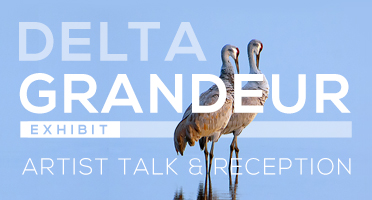 Please join us for a talk and artist reception with Rich Turner, the photographer behind the Delta Grandeur: The Bucolic Splendor of California's Inland Estuary exhibit. Rich Turner's photography career began in the US Navy, photographing assignments from the back seat of supersonic jets and in faraway locations. His subsequent work as an award-winning photojournalist at the Roseville Press-Tribune and the Stockton Record led to opening his own fine art and commercial photography studio in 1990. Based in Stockton, California, Rich Turner has been documenting the environment in general, and the California Delta over the past 40 years.
"Educating people about environmental issues is widely acknowledged to be a key factor in protecting the environment. What better medium to convey the overwhelming beauty of our surroundings than art? I have always enjoyed the awe-inspiring splendor of our planet and with a camera I have learned that there is a remarkable change that is brought about when exquisite light magically transforms our magnificent surroundings into something even more amazing…I want to do what I can to document this fragile splendor and share it with as many people as possible in the hope being that we will all become better stewards of the planet that sustains us. We tend to defend what we love." Rich Turner
Artist Talk with Photographer Rich Turner 
Thursday, October 27th
3:00- 4:00pm 
COB2 390
Artist Reception
Thursday, October 27th
4:00-5:30pm
KL 280
The Delta Grandeur exhibit is presented by the UC Merced Library through support provided by the Office of the Chancellor. For more information, please email
library@ucmerced.edu
.