Fri, September 2, 2022 3:00 PM
As we prepare to celebrate the Labor Day holiday, we are pleased to announce that the UC Merced Library has acquired a major photography collection, the work of George Mark "Elfie" Ballis. George Ballis began his career in the Central Valley as an editor of the Valley Labor Citizen newspaper, was mentored by Dorothea Lange and UC Berkeley professor Paul Taylor, and started documenting farm labor and living conditions in the Central Valley in the 1950s.
The collection of over 31,000 images, acquired with funding from the Office of the Chancellor, includes some of the most iconic images of farm worker organizing efforts by the Agricultural Workers Organizing Committee, the National Farm Workers Association, and the United Farm Workers during the 1960s and 70s. Historian George Patrick Fontes calls Ballis a "master photographer" who "created images that are now windows, time machines, into a tumultuous time in American history, in California history, in Mexican American and Chicano history." Ballis was both an active organizer and documentarian of anti-poverty programs and efforts to support small farmers and farm worker co-op farms. The collection includes photographs of Black co-op farms in Lanare and Pixley and Self-Help Housing projects in Tulare and Fresno counties.
Archived at the library alongside the photographs of Ernest Lowe, they will offer students and researchers a detailed and extensive visual record of the struggle for environmental and social justice in the region—the organized movements to improve everyday working and living conditions in the world's most productive agricultural region. The Library is working with the Center for the Humanities to plan an exhibit of the collection in the spring of 2023. Digitized images from the collection will be made accessible to the public on the California Digital Library's Calisphere site.
The Library is partnering with the Center for the Humanities to develop a Sierra Nevada-Central Valley research archives and thanks our colleagues at the Center for their support with this acquisition.
Migrant girl, Three Rocks, California.
Photograph by George Ballis © 2020 TakeStock / TopFoto.
 Maria Moreno and migrant laborers in the field.
Photograph by George Ballis © 2020 TakeStock / TopFoto.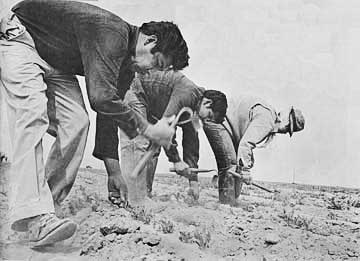 Workers using the short-handled hoe.
Photograph by George Ballis © 2020 TakeStock / TopFoto.
  Marchers north of Merced, en route to Sacramento.
Photograph by George Ballis © 2020 TakeStock / TopFoto.