Fri, May 26, 2023 4:40 PM
Jim Dooley Celebrates 20 Years at UC Merced
Author: Sara Davidson Squibb
Published: May 26, 2023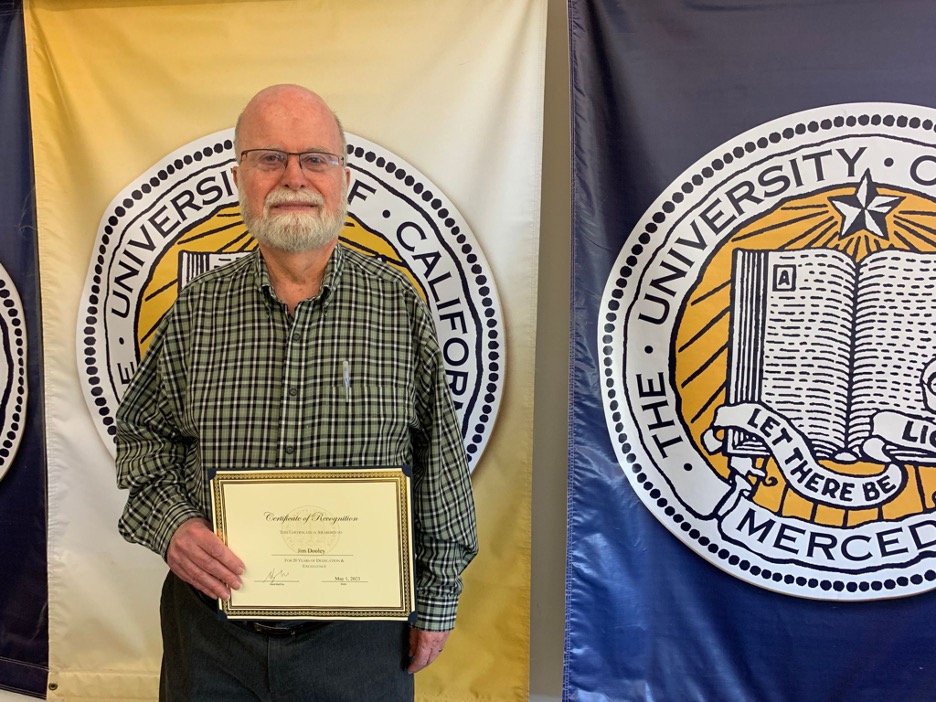 Jim Dooley first started at UC Merced in May 2003, over two years before the campus welcomed its first undergraduate class. He was hired as the Head of Technical Services with additional responsibility for the University Archives. Before coming to UC Merced, Jim was the head of Monographic Cataloging at the J. Willard Marriott Library at the University of Utah.
As Head of Collection Services, Jim is responsible for the acquisition of diverse collections in support of research and teaching. His team in technical services also ensures that these resources are discoverable in UC Library Search. A large portion of Jim's work is at the UC Libraries level where he has served extensively on a variety of committees related to collections, transformative agreements, and technical services. Most recently he chaired the Shared Content Leadership Group (SCLG) for a two-year term. This group is largely responsible for identifying resources of benefit to all campuses and determining how these might be funded. UC Libraries are known for their collaborative collection development which expands information access for UC researchers and minimizes costs through consortial licenses. Under Jim's leadership SCLG has had an increasing influence on open access conversations and negotiations. He has been a strong contributor in the UC Libraries' efforts to transform scholarly publishing.
Beyond the UC Libraries, Jim has also provided input into the strategic directions of organizations such as HathiTrust (HT) and the Center for Research Libraries (CRL), organizations that are important for increased access to information resources. He has also chaired multiple committees over the years under the Association for Library Collections & Technical Services  which is part of the American Library Association (ALA). Jim has been a regular presenter at the Charleston Conference which brings together librarian, vendor, and publisher perspectives to discuss scholarly communications.
Fun fact: Jim worked for almost a decade as a production supervisor at the Theatre Department at the University of California, Riverside and has both an M.A. in Drama and M.F.A. in Theatre.
Congrats Jim on this 20-year anniversary!