Fri, November 18, 2022 11:25 AM
Valley Life: The Summer Mural Completes the Four Seasons of Yosemite
Inspired by nature, Artist Bill Poulson first conceived of The Four Seasons of Yosemite in 1986. After closing his stained-glass studio in Maui, he arrived in Yosemite National Park (YNP) that September and embarked on drawing numerous scenes over the course of a few weeks. These drawings informed his finalized sketches for each of the four murals.
That same year, he started the fall mural knows as Tissiack, the Ahwahneechee American Indian Tribe's name for Half Dome. He completed this stunning mural in 1988 with Half Dome gleaming in brilliant oranges. Tissiack premiered at YNP's Ahwahnee Hotel in 1989 and was a featured exhibit at the Visitor Center in 1990.
Twenty-years later (2008), Poulson completed the second mural representing Winter -- titled The Chief. The mural of monochromatic colors includes a full moon over snowy terrain with Cathedral Spires on one side of the valley, El Capitan on the other, and a bobcat looking down on showshoe hares. For a time, both the Fall and Winter murals were displayed in Ahwahnee's Great Room, back-to-back, in a large custom lightbox built by Poulson who is also a journeyman carpenter.
To start the Spring mural, Poulson needed to create working space in his Arnold studio as each mural stands 14 feet wide and 8 feet tall. Poulson coordinated with the concessionaire at YNP to rotate the Fall and Winter murals in the Cliff Room at the Yosemite Lodge. Eventually, these required an alternate location, due to change in concessionaires, and UC Merced was identified as a potential host. In spring 2016, the Winter mural moved to the UC Merced Library from the Cliff Room and later that year, the Fall mural followed.
With space to work, Poulson finished the Spring mural in 2019. It features large, vivid dogwood flowers and a creek in riveting white, blues, and greens. This view is visible a half mile beyond the park's first tunnel.
Poulson completed the final mural of this series in 2022. Valley Life represents Summer with a view of Yosemite Valley looking west toward El Capitan (right) and Sentinel Rock (left). Poulson wished to call attention to American Indians and their daily activities before settlers arrived. It features a brilliant blue sky and the sweeping height of granite faces so deeply associated with the park. The Summer mural completes the four seasons, and all are on display at UC Merced's Library on the 3rd floor. The UC Merced Library is pleased to host these beautifully crafted murals.
For each mural, Poulson transformed a 12x18 inch pencil sketch into a water color, sometimes painting multiple water colors before confirming the final image. He magnified each water color, using a projector, to trace the top and bottom of each panel (each mural consists of seven 2x8 foot panels) onto manila paper. To create the stained-glass, he employed both leaded and copper foiling techniques. The leaded process involves cutting strips of lead into desired lengths and moving from one corner to another, placing glass as you go. Copper foiling allows for a thinner lead line and greater flexibility as glass is wrapped with copper tape.
Poulson was first introduced to stained glass by an artist and good friend while working as a carpenter at a cabinet shop in Sutter, CA. He read a book about working with stained glass and initially started cutting clear glass as part of the learning process. His love of drawing formed the basis of his own designs. His first stained-glass window projects, displayed at a local gift shop, sold quickly which inspired him to start his stained-glass business in Hawaii (1978). It was here that he created a stained glass dome, 12 feet in diameter, to place on top of his first glass studio; he took a welding class in order to build the framework himself.
The W. Poulson studio is located in Arnold, CA where he crafts commissioned projects of stained glass and custom furniture.
►Watch the ABC30 News story featuring the UC Merced Library and the Four Seasons of Yosemite murals (Facebook)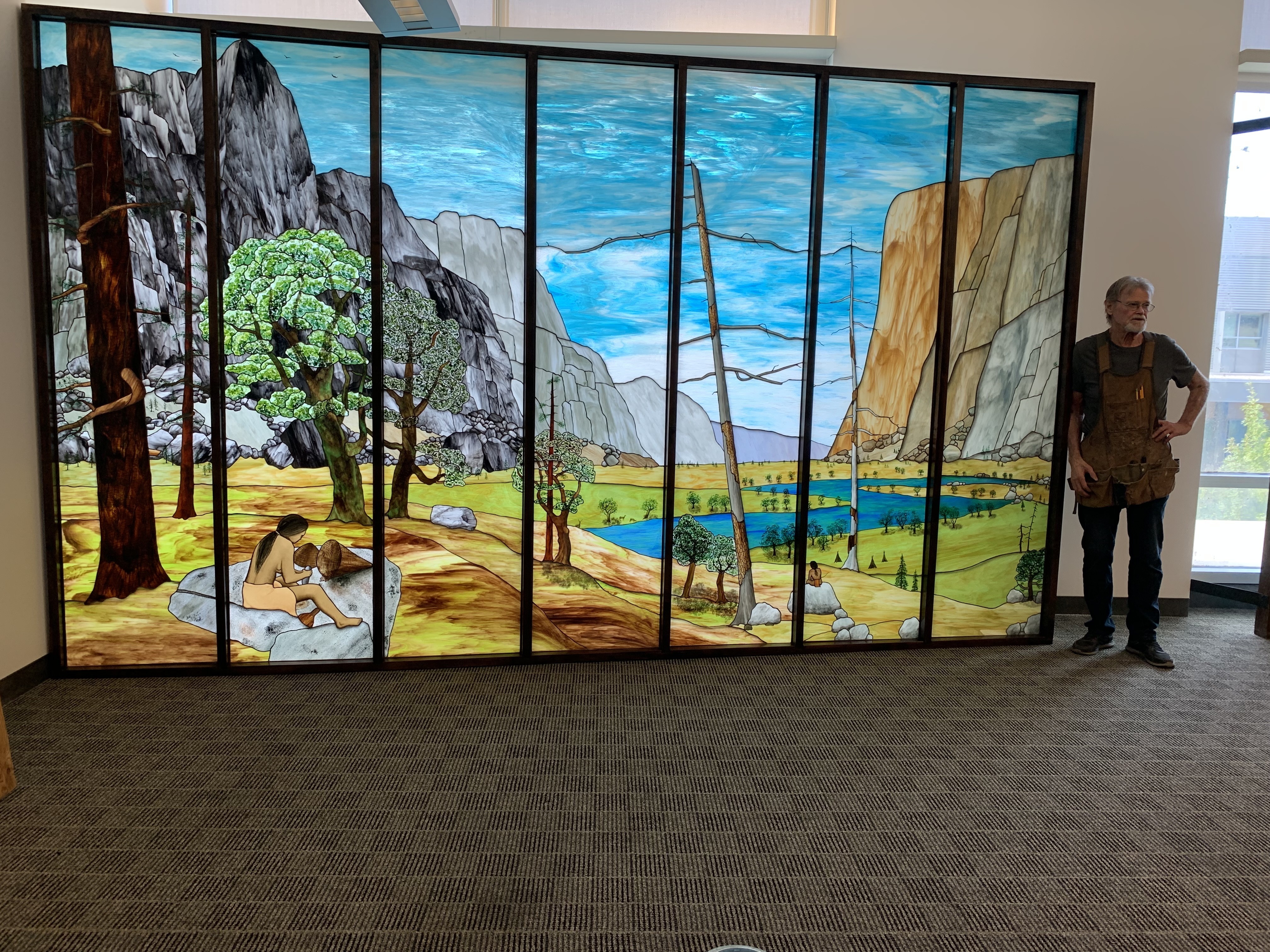 Valley Life, Summer mural completing the Four Seasons of Yosemite Murals
Four Seasons of Yosemite Murals (Summer, Fall, Winter, Spring), UC Merced Library's 3rd Floor