Fri, July 28, 2023 1:30 PM
10 Years at the UC Merced Library: Samantha Fort
Author: Sara Davidson Squibb
Published: July 28, 2023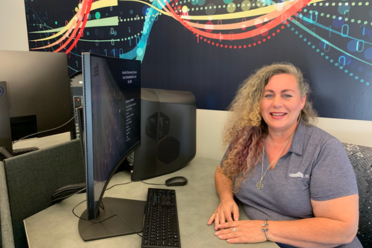 Samantha Fort is our Technology Services Coordinator providing excellent customer service to our staff and ensuring that the Library's technology is working for all library visitors. We recently recognized Samantha for her 10 year anniversary at the Library. 
As our Technology Services Coordinator, what does a typical day look like for you in the Library?
While there is no typical day, the majority of my time is spent trouble-shooting tech issues with staff and student workstations and training student assistants to do similar work.
What do you enjoy most about your position in the Library?
I really enjoy the interactions with the staff. We have a great group of career and student staff. I like the fact that our technology student assistants are friendly, open to helping anybody, and willing to learn.  
What are you anticipating in this upcoming academic year?
We will be deploying new machines for labs on the 3rd floor west and plan to have updated public workstations available. I'm looking forward to bringing on a couple more students this fall semester for a team of four. I can't wait to meet all the Library's new student assistants on training day in August.
What professional development opportunities have been valuable to you?
Attending conferences that showcase technology has been important. This is where I hear more about up-and-coming technologies and rub shoulders with people who are also providing customer service in tech-rich environments.
Samantha is both known for her fabulous baking skills and her amazing costumes at Halloween.
What is your favorite dessert to make and the best costume you've ever designed? 
My favorite dessert to make is brownie pudding because of the science behind it. At the end, the brownies are on top and the pudding is on the bottom. It's magic. However, my most requested dessert is a Baileys Cheesecake. My parents even requested this for their 50th Anniversary Party.
In terms of best costume, I did a pretty good Mad Hatter.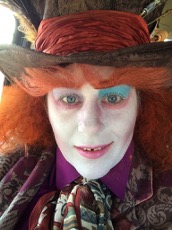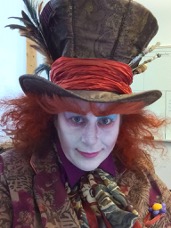 Photographs Courtesy of Samantha Fort
Congratulations Samantha on your 10 year anniversary with the Library. We all benefit from your tech expertise and strong customer service ethic!