Tue, August 15, 2023 5:05 PM
UC Merced Library Welcomes Bronwen Maxson as Head of Research & Learning Services
Published August 15, 2023
Author: Sara Davidson Squibb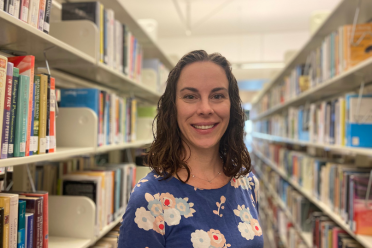 Bronwen Maxson joined the UC Merced Library August 1, 2023 as Head of Research & Learning Services. In this leadership role, Bronwen will be working with the R&LS team to build students' information literacy (IL) competencies, support researchers in finding and using information resources, and engage with our campus community to increase awareness of library services.
Most recently, Bronwen was the Coordinator of Undergraduate Engagement and Instructional Services and a subject specialist for Spanish, Portuguese, Latin American Studies, and Linguistics at the University of Oregon Libraries. In her coordinator role, she increased the UO Libraries' capacity to reach students with library services information and IL instruction through collaboration and relationship-building with both her library colleagues and campus partners, including Residential Assistants (RAs) and First-Year Interest Groups (FIGs). 
Her education and work experience include a Master of Library and Information Science (MLIS) from the University of Denver and a Bachelor of Arts from the University of Colorado, Boulder. Prior to UO, she held librarian positions at Indiana University-Purdue University Indianapolis (IUPUI), University of Colorado Boulder Libraries, and Colorado College Tutt Library. In these roles, she provided reference services, taught course instruction, offered subject expertise, developed collections, worked with graduate students, and engaged in digital scholarship/scholarly communication initiatives.
Bronwen has made significant contributions to the larger profession through her work with the Seminar on the Acquisition of Latin American Library Materials (SALALM) and her scholarly work has been recognized by the Library Instruction Round Table (LIRT) in their top 20 lists in
2021
and
2022
. LIRT is affiliated with the Association of American Libraries' (ALA).
Just a couple weeks into this position, we sat down with Bronwen to ask a few questions.
Before librarianship, you worked for a number of years as a paralegal in immigration law offices. How has this experience influenced your work as a librarian?
Working in a law office one-on-one with people showed me that I enjoyed teaching individuals how to do things -- like retrieve public records or organize their own information. I considered that experience when looking for a future career path. I also learned that I enjoyed working with people of various social and cultural backgrounds, so I have tried to carry that work forward in librarianship by looking for opportunities to work with international students and students whose backgrounds differ from my own.
At UO, you also served as a Library Liaison for Spanish, Portuguese, Latin American Studies, and Linguistics. How has your background supported your work in these subject areas? 
I had a BA degree in Spanish Language and Literature, traveled a bit in Latin America, and studied abroad in Spain. I became fluent in Spanish and enjoyed the challenge of communicating and doing academic work in other languages. Combining this background with my paralegal experience in Colorado, where I worked with many Latino/a/x/e people from different countries, led me to look for opportunities to use the Spanish language in my career. Along the way, I took a course called Portuguese for the Spanish Speaker and am still working on my Portuguese skills. 
I found out about the
Seminar on the Acquisition of Latin American Library Materials (SALALM)
organization when I was in my graduate program for Library and Information Science. This is the home for all Latin American Studies librarians - not just librarians in acquisitions. SALALM has been a welcoming and supportive professional organization to help me learn all aspects of Latin Americanist librarianship. In SALALM, I found a community where I could both contribute and learn a lot.  
You've mentioned SALALM as a professional home. Can you tell us more about your work with SALALM?
I have been very involved in SALALM in the past 10 years in both leadership roles and as an active member. Early on I was elected as a co-chair of the Research & Instruction Services sub-committee and chaired the Acquisitions Committee for a two-year term. As an active SALALM member I have served as the social media coordinator, participated in the marginalized people and ideas sub-group, and contributed to the conference planning task force this past year. Most recently, I was elected as a Member-at-Large and serve on the Executive Committee. 
What would you identify as a professional contribution that you most value?
In my librarian career, I did not set out to be a researcher and get published, but it has become an enjoyable part of my work. I'm proud of my publications. It is exciting to build on the ideas of others to create new knowledge and best practices.
What is your first impression of the UC Merced Library?
What has struck me the most is how warm and collegial everyone is in the Library. 
Have you been able to explore this area in the short amount of time you've been here?
Yes, I've done some exploring and look forward to doing more. My dad came to help me move to Merced. While he was here, we used his US National Parks Pass to make my first visit to Yosemite National Park. It was gorgeous. I look forward to going back. I also recently ventured downtown into Merced's Antique Mall and found a metal mermaid that I'm using as a doorstop. 
What are you looking forward to in this role as Head of Research & Learning Services?
I'm really curious to know more about how research skills are integrated into the undergraduate experience on this campus and where the opportunities are for strengthening and expanding the educational services that the Library can provide. I am interested in figuring out which things are working well and which things I can bring my strengths to to improve. I am looking forward to getting into the details and starting to puzzle out where we can be strategic. 
I am also looking forward to getting to know the students here. They were super impressive at the Summer Undergraduate Research Symposium which I was able to attend during my first week on the job. So, I am excited to figure out what we can do together.
We are excited to have Bronwen join our Library staff. Please join us in welcoming her to UC Merced.